2022 FreshGrass Awards Finalists
There's nothing like some serious, emerging talent and a friendly competition to heat up a festival. That's why we love the FreshGrass Awards — a cornerstone of our weekend celebrating the freshest talent on the festival scene, with 12 finalists competing for prizes totaling more than $20,000 cash and prizes!
With festival guests, family, and friends looking on, three finalists in four categories go head-to-head (and banjo-on-banjo!) performing one standard or traditional tune and one original composition. The grand prize winner in each category — selected by a jury of festival musicians and industry experts — takes home an array of prizes, recording sessions at Compass Records, and the band winners get to perform at the next festival.
The 2022 winners were selected at last year's FreshGrass | North Adams! See below for those noted as winners. And yes, all 3 fiddle finalists were crowned winners.
Band
The Wildmans (WINNER)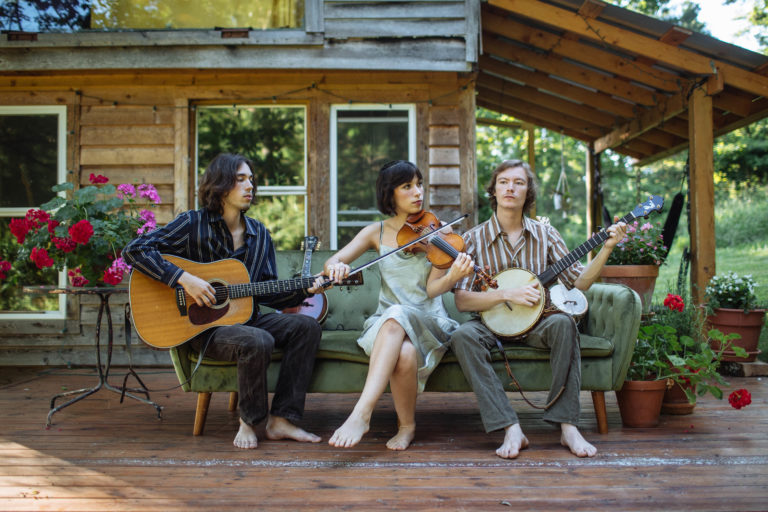 Floyd, Virginia
The Wildmans come from the hills of Floyd, Virginia, in the heart of the Appalachian mountain music tradition. From campsite jamming at festivals and fiddler's conventions and a college level music education comes the foundation for musical exploration that sets this group apart, taking the audience on a musical journey that reflects the growth and passion of these talented musicians.  
The band features award winning players: 
Eli Wildman

, first place winner in mandolin at the Galax Old Fiddler's Convention, 2018 and 2019, first place winner at the Mount Airy Fiddler's 2017, 2018, 2019 

Aila Wildman

, first place winner in Old Time Fiddle and Best All Around Performer at the 83rd annual Galax Old Fiddlers convention in 2018 

Victor Furtado

, winner of the

2019 Steve Martin Prize for Excellence in Banjo,

and first place Old Time Banjo at Galax 2015, 2016 and 2019 
The group has appeared on stages large and small, performing in festivals such as Red Wing Roots, Chantilly Farm's Bluegrass and BBQ festival, Grey Fox Bluegrass, Floyd Fest, and The Steep Canyon Rangers' Mountain Song Festival. They also regularly represent young talent along the Crooked Road in regional fiddler's conventions.  Having shared the stage with talents such as Bela Fleck, The Steep Canyon Rangers, The Steel Wheels, Danny Knicely, Sammy Shelor, Sierra Hull, Billy Strings, and more., these young musicians are making their way in the American stringband scene.
Muddy Souls
Eugene, Oregon
The Muddy Souls are a 5-piece, progressive bluegrass band formed in Eugene, Oregon in 2018. Their ever growing sound is a beautifully fresh take on an age old genre of music. Having four different songwriters and singers in the band, their sound encompasses a wide variety of influences. Traditional bluegrass, folk, jam and improvisational music, and jazz just to name a few. Their uniquely crafted songs and thought provoking lyrics are showcased on their recently released, third studio album, entitled "The Raven". They are taking the Pacific Northwest bluegrass scene by storm, and they are currently working on material for a 4th studio album.
Max Schwartz Band
Needham, MA
The Max Schwartz Band is Max's primary songwriting and bandleading exploit in the acoustic/bluegrass domain.
The band features Max's longtime collaborator Carolyn Kendrick, a singer-songwriter and producer from Nashville on fiddle; Tim Watson, a Miami-based guitarist and improvised-music composer, and Max's bandmate from the Stamps Jazz Quintet at the University of Miami; Pele Greenberg, a drummer, guitarist, and songwriter who plays jazz, pop, or folk tunes on any night in New York; and Noah Harrington, a Boston-based bassist (try saying that three times), recording artist and composer who appeared last year with his group, Noah y Maurizio's Acoustic Nomads. 
Max Schwartz is a musician, composer, and teacher originally from Boston (currently based in Needham, MA) and is highly acclaimed as both a bluegrass and jazz musician. He has been called "an acoustic master" by the Freight & Salvage Coffeehouse, has won Downbeat Awards for both performance and composition, is a two-time member of the GRAMMY® Jazz Combo, and was the winner of the 2019 Rockygrass Banjo Competition.
Banjo
G Rockwell (WINNER)
Boston, MA
An award winning multi-instrumentalist, vocalist, composer and bandleader, G Rockwell has performed and competed on stages across the country. His unique style of Americana sits somewhere between the traditions of bluegrass and gypsy jazz; with the modern influences of artists like David Grisman and Tony Trischka. G has had the honor of sharing the stage with Michael Daves, Jacob Jolliff and Bela Fleck.
Currently enrolled at the prestigious New England Conservatory of Music; G performs and teaches on multiple instruments. He performs with the G Rockwell Band, Kol Kahol Bluegrass, Bookmatch as well as solo. G has worked on multiple studio album/EP projects, including the 2019 release of Spark! his album of original works, produced in concert with Stash Wyslouch.
Max Schwartz
Needham, MA
Max Schwartz is a musician, composer, and teacher originally from Boston (currently based in Needham, MA) and is highly acclaimed as both a bluegrass and jazz musician. He has been called "an acoustic master" by the Freight & Salvage Coffeehouse, has won Downbeat Awards for both performance and composition, is a two-time member of the GRAMMY® Jazz Combo, and was the winner of the 2019 Rockygrass Banjo Competition.
Nikolai Margulis
Fayetteville, Arkansas
Fourteen-year-old Nikolai Margulis was first captivated by the banjo at age 5 on the square of his hometown of Fayetteville, Arkansas. After studying classic style with Clarke Buehling for seven years, he attended Blue Ridge Banjo Camp and fell for the culture, music, and people around the 3-finger style. Since moving to Princeton, he studies with Kristin Scott Benson, and makes the occasional trek to far northern New Jersey to learn from Tony Trischka. He's also been lucky enough to sneak in lessons with Noam Pikelny, Adam Larrabee, Matthew Davis, Alison Brown, Ned Luberecki, Ron Block, Wes Corbett, and Béla Fleck. 
Nikolai played in the 2021 IBMA Kids Awards Show Band, performed a solo piece for Béla Fleck's closing Blue Ridge concert at Brevard Music Center, and has joined jams and concerts throughout the region from Melody Allegra Berger's Stoop Sesh in Brooklyn to gigs with electro-country band Owen Lake and the Tragic Loves. He studies guitar and songwriting with Monica Mugan and has developed tabs for the publisher Mel Bay and for Béla Fleck. As a ninth grader at Princeton High School, he loves bringing the joy of banjoing to unsuspecting classmates. 
Fiddle
Camille Vogely-Howes (WINNER)
Columbus, OH
Camille Vogely-Howes is a violinist who specializes in classical, jazz, improvisation, and—of course—fiddle based out of Columbus, OH, and Asheville, NC. Camille performs with Quartet Davis an ensemble of holistic musicians trained in classical chamber music but with roots in folk and blues-based music.
Sam Stage (WINNER)
Raleigh, NC
Sam Stage is a fiddler, singer, and songwriter with an insatiable appetite for everything music. Born in Seattle and growing up in Raleigh, NC, Sam brings a core of creativity, a love of improvisation, and a deep devotion to his instrument to every project he dives into. Named the winner of the 2021 RockyGrass Fiddle Contest and the recipient of a full scholarship to Berklee College of Music in Boston, MA, Sam has made himself a staple of the North Carolina acoustic scene, performing across multiple genres while teaching the next generation of young musicians through the Piedmont Council of Traditional Music in Raleigh. Whether he's belting out The Cure songs with the Beer and Banjos All-Stars, laying in fiddle with the Tray Wellington Band, or racking up his frequent flyer miles with IBMA Momentum Award winners Liam Purcell and Cane Mill Road, Sam carries his buoyant musicianship with him wherever he goes.
Minnie Jordan (WINNER)
Brooklyn, NY
Minnie Jordan is a violinist, composer, and educator currently based in Brooklyn, NY. Her sound combines contemporary jazz with Texas country roots, and mixes bluegrass influence and classical training into the magic melting pot of modern improvisation. She has years of experience playing Jazz, Bluegrass, Western Swing, Classic Country, New Acoustic, and Classical music.
​Growing up on a ranch in rural Texas, Minnie was immersed in the sounds of Western Swing and Texas fiddle. She began playing publicly at age 9 in a duo with her younger sister, Ella. The two played their first festival in 2010, winning the youth talent competition at the Old Settlers Music Festival, where they showcased the following year. Subsequent honors included use of the Daniel Pearl Memorial Violin–awarded at the Mark O'Connor String Conference–and the Sam Eisenson Award for Country Music. In 2019 she graduated summa cum laude from Berklee College of Music—in 2020, she graduated summa cum laude from the Berklee Global Jazz Institute, with her Master's degree in Contemporary Jazz Performance. She was also selected to be a member of the 2021 JEN Sisters in Jazz, under the direction of Ingrid Jensen, and was a nominee/semi-finalist for the NextJazz Legacy Award. 
​She has performed and/or taught clinics at the Dominican Republic Jazz Festival, Grey Fox Bluegrass Festival, Shasta Music Summit, FreshGrass, Southwest Pickers Bluegrass Festival and other festivals and venues across the country.
​Minnie has actively sought to expand her musical horizons by studying with some of music's most gifted contemporary teachers and players, including John Patitucci, Danilo Perez, Terri Lyne Carrington, Joe Lovano, Billy Contreras, and Buddy Spicher, among others. In addition to being a talented musician, Minnie is a passionate educator, dedicated to sharing her love of music, art, history and literature with the younger generation. She has won awards for her visual and textile art and academic achievement as well, and her other skills include training horses, rehabilitating wild waterfowl, and restoring vintage clothing.
Guitar
Alex Rubin (WINNER)
Cambridge, MA
A member of the April Verch Band from 2016-2020, Alex has toured extensively both at home and internationally, including performances in 49 states and abroad. Alex developed a love for acoustic and traditional music while attending Cornell University in Ithaca, NY. Graduating with a degree in Neurobiology in 2011, Alex returned to the vibrant Boston music scene, studying privately with Berklee School of Music's ineffable John McGann. Since then, Alex has performed around the world on distinguished stages including at Merlefest, Australia's National Folk Festival, Estonia's Viljandi Folk Festival, Kaustinen Folk Festival in Finland, the Vancouver Island Musicfest and more. Currently, Alex lives in Cambridge, MA and is working on a solo acoustic guitar record.
Nick Weitzenfeld
Floyd, VA
Nick Weitzenfeld is a multi-instrumentalist, vocalist, and songwriter hailing from the small town of Floyd, VA. Bringing a spherical enthusiasm to all things music, Nick is captivated by the possibilities of stretching traditional roots instrumentation beyond the notion of genre. Now living in Johnson City, TN, Nick is the guitar player and lead singer for the Tray Wellington Band. His debut solo project, Shuttered Blind, will be released at the end of 2022.
Alex Formento
Boston, MA
Alex Formento is Boston-based musician specializing in guitar, pedal steel, and vocals. Raised in New Jersey, he picked up guitar at the age of 11. Initially inspired by the rock and roll records of the 60's and 70's, he eventually fell in love with Jazz and bluegrass music while studying with guitar legend Bucky Pizzarelli. 
Since moving to Boston in 2015, Alex has played at festivals and venues throughout the New England area as a member of the modern acoustic trio, Pretty Saro. The group has appeared at Club Passim, Rockwood Music Hall, Ossipee Music Festival, and were the winners of the 2018 Podunk Band Competition. In 2021, he released "Alone Together", an EP featuring mandolinist Moriah Ozberkmen, and John Mailander on fiddle. Currently, you can find Alex playing pedal steel with Rachel Sumner & Traveling Light, and The Beantown Buckaroos. 
Alex is a graduate of Berklee College of Music where he received his B.A. in performance. While at Berklee, he studied with Joe K. Walsh, Bruce Molsky, Tony Trischka, Lyle Brewer and many others.